Lodging at Two Creeks Crossing Resort
Make Yourself at Home
Yes, we're an RV park, but more than that Two Creeks Crossing Resort is a destination with several unique lodging options for you to explore.
See what's in store for you
40 waterfront RV sites
12 waterfront cabins
1 historic four-room log cabin (Crawford Cabin)
33 covered RV sites available for weekly and monthly rental only
18 pull-through RV sites
92 back-in RV sites, many with views of the water, extra parking, or both
6 deluxe cabins
1 Treehouse
3 Yurts
6 Expedition Tents
7 ADA accessible RV sites
2 ADA accessible waterfront cabins
All lodging includes access to over a dozen resort amenities.
RV Sites
Two Creeks Crossing Resort offers 183 RV sites! With that many sites sitting on 82 acres, we are sure to have a site that you'll love. You'll find 40 waterfront RV sites that sit either on Rocky Creek or the Grand Pond, 25 RV sites that have a view of the water, 38 Deluxe RV sites that come with an extra parking space, 18 pull-through sites, 29 RV sites that back up into the trees for a cozier experience in the shade, and 33 covered RV sites for guests who want to stay a month or more. We also offer seven RV sites that are ADA-compatible. With that many different types of RV sites, we're sure to have something for you!
Please note that RVs that are over 10 years old and pop-up campers are subject to management approval and you may be asked to furnish photos of your RV to determine its condition.
90-year-old Crawford Cabin
Original to the property, this four-room log cabin has been restored and modernized and is ready to treat you to an unforgettable stay. Relax in the original log-walled rooms and enjoy the modern kitchen, bath, and private hot tub deck.
The Crawford Cabin has a living area, full kitchen and dining room, and two bedrooms. One bedroom's king-size bed sleeps two and the other has a queen bed and a bunk bed that has a double bed on the bottom and a twin on top allowing this cabin to comfortably sleep six. With its rustic charm and modern comforts, the Crawford Cabin is a one-of-a-kind experience.
Waterfront Cabins
Our cabins are located along Kickapoo Creek and Rocky Creek and feature a waterfront porch to enjoy the view. Each cabin is climate controlled and features a sitting area, kitchen and dining area, full bath, and one-bedroom or a bedroom/loft arrangement. The kitchens include a stove top, microwave, refrigerator, coffee maker, toaster, pots, pans, cooking utensils, place settings and eating utensils. It's the perfect getaway!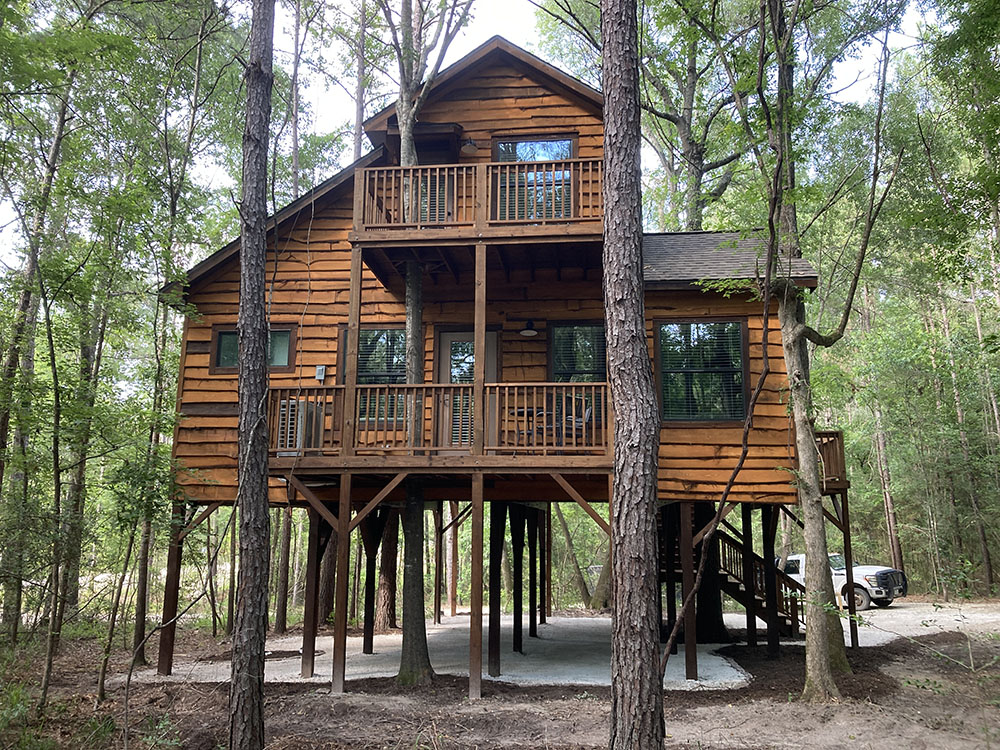 Treehouse
Relax with a view from above in a tree-top getaway. Our treehouse is literally a cozy cabin in the sky, offering the amenities of home in an elevated atmosphere. The treehouse has a master bedroom with a king-size bed and a second upstairs bedroom with two king-size beds, plus a bath/shower, living area, dining area, kitchenette, and four, yes four, porches to sit out and enjoy the tree top views!
The kitchen includes a stove top, microwave, refrigerator, coffee maker, toaster, pots, pans, cooking utensils, place settings and eating utensils. This treehouse also has a propane gas grill.
Yurts
Enjoy a unique experience that combines tent camping with cabin living. Our climate-controlled yurts each feature their own kitchenette/dining area, restroom with shower, and a queen-size bed. Our large yurt has a loft that can sleep children or extra guests. The kitchens include a stove top, microwave, refrigerator, coffee maker, toaster, pots, pans, cooking utensils, place settings and eating utensils.
Glamping Tents
Safari-living at its finest. Our glamping tents offer an experience that's closer to nature yet with the comforts of modern living. These large, single-room canvas wall tents sit on a wood deck and offer a queen-size bed, an interior sitting area, and an outside porch to enjoy the weather.
Area attractions located near Two Creeks Crossing Resort include:
Rocky Creek Falls
A natural waterfall is located on one of our bordering creeks, Rocky Creek, and located just a few minutes upstream from Two Creeks Crossing Resort.
Sam Houston National Forest 
160,000-acre forest spanning three counties offering fishing, bird and wildlife watching, biking and canoeing, camping, and its award-winning Lone Star Hiking Trail.
Big Thicket National Preserve
113,000-acre nature preserve, described as a "biological crossroad" of a swamp, desert, Gulf coastal plains, Midwest prairies, and eastern hardwood forest with hiking trails, birdwatching and wildlife viewing, boating, paddling, and fishing.
Sam Houston Memorial Museum
Dedicated to early Texas history and preserving the memory of Sam Houston, the first president of the Republic of Texas and hero of the Battle of San Jacinto which won Texas its independence from Mexico. The museum encompasses a 15-acre complex located on General Houston's former homestead and features exhibits, historical buildings, and historical demonstrations.
Sam Houston Statue and Visitor's Center
The largest statue of an American hero and one of the largest freestanding statues in the U.S., "A Tribute to Courage," affectionately known as Big Sam, stands a total of 77 feet tall and can be seen from over six miles away.
Also nearby:
Local dining in Onalaska (three minutes away), Livingston (10 minutes away), and Huntsville (30 minutes away).
Be notified when we start accepting reservations
Experience Two Creeks Crossing Resort for yourself

Book your reservation now